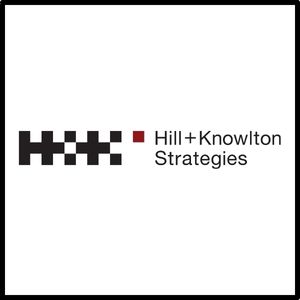 Hill+Knowlton Strategies
---
H+K is one of the world's leading global communications companies, partnering with clients across more than 80 offices globally in more than 40 markets. Drawing on our significant heritage – and a spirit of unbridled creativity and innovation – we are constantly renewing the capabilities that empower us to drive growth for our clients, help them manage risk, and defend and improve their reputations in today's extraordinary environment.
We focus on purpose and performance; through an approach we call 3P Communications™ Performance + Purpose = Preference. Our belief is that those clients with a clear, authentic purpose, and performance strategies aligned to business objectives are most likely to succeed.
We apply art and science in engaging stakeholders to experience purpose and performance in the ways that matter most to them. We then leverage expertise in owned, earned and shared media to build purpose-driven integrated communication campaigns that bring stories to life and achieve measurable impact in an always-on world.
Today's uncertainties present new and unique challenges for our clients and their audiences; organised around industry sectors, our teams deliver deep industry knowledge and expertise. Our ideas are insight-led, underpinned with an understanding of data and analytics, creativity and storytelling, ensuring our communications strategies build, protect and balance business value.
With a focus on agility and creativity, we are innovating the future of public relations.
---